ES GALLINER DE MADONA
(Houses)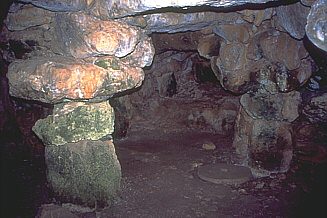 LOCATION:

Behind the house of "Binigaus Nou", to which you arrive by the road that leaves Es Migjorn Gran and pass before the stepped monument of "Binicodrell" and the cemetery of that town.
---
MUNICIPAL DISTRICT
:
Es Migjorn Gran.
---
DESCRIPTION
:
It is a building with semicircular plan that leans on the rock for its southeast side and presents a rectilinear facade to the northeast where we find a rectangular door with monolithic lintel.
In the interior, there is, irregularly distributed, 5 columns and 9 pilasters of "Mediterranean" type (narrow for the base and enlarging their perimeter as they go ascending).
The cover is built with flagstones, and it seems that there was a superior floor, maybe another construction.
The wall nearest the house (the construction is glued, practically, to "Binigaus Nou") presents a cave-in, probably provoked, that is used as the current entrance.
---
DIMENSIONS
:
External maximum length: 16.40 m

External maximum width: 9.25 m

Interior maximum length: 14.00 m

Interior maximum width: 6.10 m
---
CHRONOLOGY
:
Its constructive technical characteristics (especially the columns and the cover) seem to relate this building, which maybe it was not a "house" strictly so called, but a stable, with the "habitable naveta" known with the name "Sa Cova des Moro" (Ferreries), from the Pretalayotic period (2000-1400 B.C.)
---
NEIGHBOURING MONUMENTS
:
Very close is the Ravine of Binigaus where there are some cavities (natural ones or artificial) used in the prehistoric times, the famous "Cova des Coloms" (literally: "Cave of the Doves") for instance.
---
© Ferran Lagarda i Mata, 1996-2012 (text and pictures). All rights reserved.