TORRE DEL RAM 1
(Hypogeums)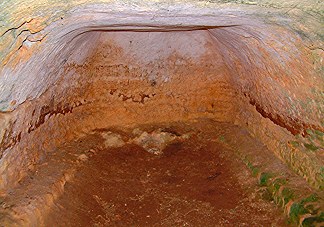 LOCATION:

In the parcel 191 of the urbanization "Torre del Ram", located to the northwest of Ciutadella.
The parcel is in the street of Gregal, and you can arrive to it, from the highway that leads to the race track that takes the same name that the urbanization, turning to the left down the street of Es Canal and another time in the same address for that of Mestral.
---
MUNICIPAL DISTRICT
:
Ciutadella.
---
DESCRIPTION
:
It has an entrance in form of chimney more or less inclined the mouth of which is protected for a kind of dome built with big stone blocks without roughdressing.
The camera, dug in the rock, is of rectangular plan and trapezoidal section (the roof is flat), with a bank that stands out a little from the floor along the lateral walls and the apse.
---
DIMENSIONS
:
Length of the chimney: 2.60 m.
Width of the chimney: 1.55 m.
Length of the camera: 8.80 m.
Width of the camera: 2.50 m.
Height of the camera: 1.95 m.
---
CHRONOLOGY
:
Its structure seems to point toward the Pretalayotic (2000-1400 B.C.)
The drawings (incised) of ships that decorate the camera are probably later in a lot from its construction, surely of historical time.
---
NEIGHBOURING MONUMENTS
:
The Hellenistic chapels of Cala en Forcat are not very far, in the neighbouring urbanization of "Los Delfines".
---
© Ferran Lagarda i Mata, 1996-2012 (text and pictures). All rights reserved.