BINISSAFULLET NOU
(Taulas)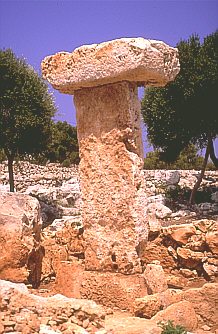 LOCATION:

Next the highway from Sant Lluís to Cala Binisafúller (Me-10), where it turns abruptly toward the south.
---
MUNICIPAL DISTRICT
:
Sant Lluís.
---
DESCRIPTION
:
It appeared fallen during the excavation of the village and has been restored. It has reduced dimensions, showing the stone-capital the typical rabbet that facilitated its equilibrium on the stone-support, lifted on another stone. The precinct that surrounded it is in very bad state.
---
DIMENSIONS
:
Stone-support:
Height: 3.03 m.
Width: 1.16 m.
Thickness: 0.41 m.
Stone-capital:
Length: 1.95 m.
Width: 0.88 m.
Thickness: 0.45-0.47 m.
---
CHRONOLOGY
:
It seems that the village was built in the Talayotic IV (450-123 B.C.), lasting its occupation until the Muslim time.
---
NEIGHBOURING MONUMENTS
:
Next to it, we find a "talayot" in not very good conservation state, and, around this, a series of structures, with some small underground cavity that without a doubt constituted the base of the houses and the warehouses of the village.
---
© Ferran Lagarda i Mata, 1996-2012 (text and pictures). All rights reserved.