TALATÍ DE DALT
(Taulas)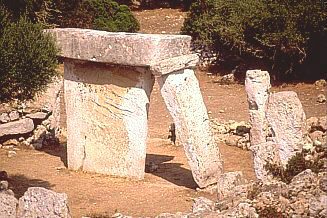 LOCATION:

Near the "Camí de Cotaines", narrow asphalted way that begins in the highway Alaior-Cala en Porter and connects with the one from Maó to Ciutadella (Me-1) near the crossing of this with the one that leads to the Airport of Minorca (Me-14).
The quickest form to go to it is to take the aforementioned highway Maó-Ciutadella, in the direction of this second town, and, later on, to stray toward the left for the first asphalted road that we find after the crossing with the highway that leads to the airport.
---
MUNICIPAL DISTRICT
:
Maó.
---
DESCRIPTION
:
Very preserved exemplar that presents the particularity that the pillar that we find often near them has fallen and it leaned on the stone-capital.
The stone-support is more narrow in the inferior part that in the superior one and doesn't present any nerve in its rear face.
The stone-capital is a block in form of overturned pyramid frustum fit in the stone-support by means of a rabbet.
The fallen pillar, of rectangular section, that leans on the stone-capital is connected to the taula by the base by means of a rectangular block.
The precinct has a horseshoe plan with a concave facade. In the centre of this the door opens, with a step. The walls show several pilasters leaned against them. In the northeast angle, under the construction, there is a columned room with a polylithic cover sustained by a column and a pillar.

(You will find more information in the web of Talatí: http://talati.cjb.net   

  )
---
DIMENSIONS
:
Stone-support:
Height: 3.00 m.
Width: 2.60-2.70 m.
Thickness: 0.55-0.60 m.
Stone-capital:
Length: 3.80-4.00 m.
Width: 1.38-1.50 m.
Thickness: 0.65 m.
---
CHRONOLOGY
:
Talayótico III (800-450 a.C.) (ver la taula de "Bellaventura").
---
NEIGHBOURING MONUMENTS
:
Around a small talayot of oval plan, markedly in form of frustum of cone and located in the summit of a small prominence of the land, diverse constructions are located, among which the precinct of the "taula", the described "columned room" and some houses a little sunk in the ground and quite well conserved stand out. There are also some caves and what seems an access portal to the village, opened in a wall section (of this, it would only be conserved some layer and the remains around the portal).
---
© Ferran Lagarda i Mata, 1996-2012 (text and pictures). All rights reserved.