TORRETRENCADA
(Taulas)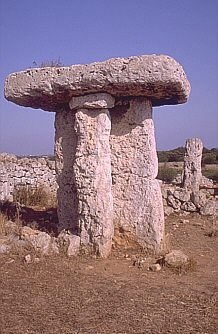 LOCATION:

Near the "Camí Vell de Maó", at 6.9 km from Ciutadella and next to the house of "Torretrencada". You arrive to it by the aforementioned road from Ciutadella or, for the current highway from Ciutadella to Maó (Me-1), turning right for the first asphalted way that you find after the parking of the "Naveta d'Es Tudons", aa way that connects with the "Camí Vell" some two kilometres beyond (when you arrive to this one, you will turn left and will travel 3.4 km until the parking of "Torretrencada", where the path that leads to the monument begins).
---
MUNICIPAL DISTRICT
:
Ciutadella.
---
DESCRIPTION
:
Built with a stone kind clearly different from the used one in the other taulas that stay up (it is smoother and with many dimples of small size), the stone-support is broken horizontally and has in the rear face a pilaster with capital to help it to sustain the stone-capital. This one has form of overturned pyramid frustum and it is inserted in that of support by means of a rabbet worked in its inferior face.
The precinct of the taula is much damaged, but it seems that it had the typical plan in horseshoe form with the lightly concave facade. The external adornment of the facade is made with stones in vertical position on which there are other, smaller, placed horizontally. There is also some pilaster.
---
DIMENSIONS
:
Stone-support:
Height: 2.70-2.75 m.
Width: 1.90-2.00 m.
Thickness: 0.42-0.60 m.
Attached pilaster:
Height: 2.50 m.
Width: 0.60 m.
Thickness: 0.30 m.
Stone-capital:
Length: 3.10 m.
Width: 1.65 m.
Thickness: 0.45 m.
Capital of the attached pilaster:
Height: 0.20 m.
Width: 0.80 m.
Thickness: 0.38 m.
---
CHRONOLOGY
:
Talayotic III (800-450 B.C.) (see the taula of "Bellaventura").
---
NEIGHBOURING MONUMENTS
:
A "talayot" in not very good conservation state, the "taula", a "columned room", a possible "cistern" and the probable remains of a house are the most outstanding in the village , in which we also can highlight some anthropomorphous tombs dug in the rock.
Not very far, through the fields, it is the village of "Torrellafuda".
---
© Ferran Lagarda i Mata, 1996-2012 (text and pictures). All rights reserved.