SO NA CAÇANA (Monument 5)
(Taulas)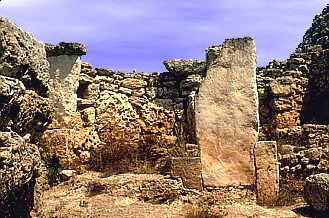 LOCATION:

It is part of the same monumental ensemble, probably a sanctuary, than So na Caçana 2 (on the right of the highway that goes from Alaior to Cala en Porter, very near the crossing with the one that, from Maó, leads to the same creek).
---
MUNICIPAL DISTRICT
:
Alaior.
---
DESCRIPTION
:
The stone-capital has disappeared. The stone-support has a rectangular section, is leaned against another flagstone placed in the rear and two smaller stones, both well worked ones, help it to be sustained, one by each side (it is fit between those).
The precinct, quite well preserved, is of semicircular plan and straight or very lightly concave facade, with a door of monolithic stanchions and step. The interior adornment, this of the main precinct as well as this of the corridor that is originated by the potent walls of the facade, shows several "chapels" or "niches"; we also find the habitual monolithic pillars, with capital, leaned against or embedded in the wall, and the isolated pillar on the right of the central pilaster.
---
DIMENSIONS
:
Stone-support:
Height: 2.82 m.
Width: 1.16 m.
Thickness: 0.30 m.
---
CHRONOLOGY
:
As we indicated, it seems that around the 1500 B.C. (Pretalayotic-Talayotic I) the area was occupied by a necropolis of hypogeums that was substituted toward the 10th century by a sanctuary that functioned, with some irregularity, up to the 200 B.C. (Talayotic IV), moment in which it was on decline and the area became used for habitation place. In the monument about we are speaking it seems, however, that still took place rites during the change of era.
---
NEIGHBOURING MONUMENTS
:
The ensemble is formed by some ten monuments, among them two precincts of "taula", a kind of square "talayot" with concave facade and apse and a house.
At 1 km, there is the Talayotic ensemble of "Torrellisà Vell" aand, at 3, the "necropolis of hypogeums" of "Calascoves". On the same highway, but nearer Alaior, there are the village of "Torralba d'en Salort" and the "naveta" of "Torralbet".
---
© Ferran Lagarda i Mata, 1996-2012 (text and pictures). All rights reserved.