CORNIA 2
(Talayots)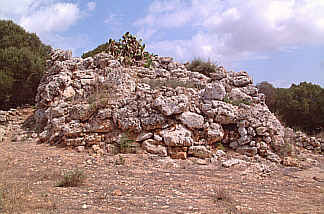 LOCATION:

To the right of the highway that goes from Maó to Cala en Porter just before we arrive to the crossing with the highway to the airport (the road that leads to it begins to the right of a house that is next to the highway).
---
MUNICIPAL DISTRICT
:
Maó.
---
DESCRIPTION
:
Very demolished talayot of irregular plan and profile of frustum of cone built above a previous wall that defined the village.
It was constructed with roughdressed blocks and to the northeast it has a door with polilithic jambs and monolithic lintel that opens into a main camera from which leaves, to the right, a short corridor that goes to a second, globular and of elliptic plan (with a vent that also communicates with the first one).
It's possible that there were other structures, superior and inferior, but the conditions of conservation of the building makes difficult to assure it.
---
DIMENSIONS
:
Exterior diameter (north-south): 12.52 m.
Exterior diameter (east-west): 11.58 m.
Interior width: 1.60 m.
---
NEIGHBOURING MONUMENTS
:
Around the talayot, there is a village, not well known, in which a second talayot ("Cornia 1"), quite well conserved, highlights.
---
© Ferran Lagarda i Mata, 1996-2012 (text and pictures). All rights reserved.