SANT VICENÇ D'ALCAIDÚS
(Houses)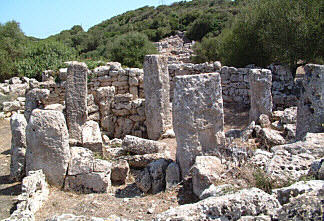 LOCATION:

Very near the talayots of Biniaiet, clearly visible to the right of the highway from Maó to Ciutadella between the kilometres 5 and 6.
To arrive to the site we will take the initially asphalted road that leaves the highway at the foot of these talayots and we will travel by it about 400 or 500 meters. The ensemble is to the left, behind some trees (the sign that indicated it is fall after the stone barrier that contours the road, but a space like a parking that is in the opposed side of the road can serve as reference).
---
MUNICIPAL DISTRICT
:
Alaior.
---
DESCRIPTION
:
Group of 5 "circles", Talayotic housings with circular plan, of between 5.6 and 14 m of diameter, structured each one of them around a central patio. Some secondary constructions with a rectangular form can also be distinguished.
---
NEIGHBOURING MONUMENTS
:
The navetas of Rafal Rubí are at a little more than a kilometre of distance in direction to Alaior and the village of Talatí de Dalt at 1.5 km in direction to Maó.
---
© Ferran Lagarda i Mata, 1996-2012 (text and pictures). All rights reserved.